When it comes to ensuring access, security, and convenience with your vehicle, locksmith services related to car locks and keys play a pivotal role. Imagine the scenario: you've lost your car keys, require a spare set, or need to enhance your car's security through key reprogramming. In these moments of need, expert locksmiths emerge as your trusted allies, armed with precision and expertise to navigate the complex world of car keys and locks.
In this blog post, we will delve into the realm of locksmith services, exploring car key reprogramming, the craft of fashioning replacement keys, and the art of providing fresh keys for improved access. So, fasten your seatbelt and embark on a journey to understand the intricate dance between keys, security, and accessibility in the automotive world.
At 3 Guys Locksmith, our unwavering dedication revolves around delivering top-tier automotive locksmith solutions to our valued clients, all while maintaining a reasonable and competitive pricing structure. Our team of professional locksmiths holds the essential licenses and insurance, and they possess the requisite expertise, extensive experience, and cutting-edge equipment to adeptly manage all aspects of your vehicle's security requirements.
Our comprehensive suite of vehicle key services encompasses key restoration and replacement, catering not only to car keys but also to motorcycle keys. We specialize in the extraction of broken keys, offering rekeying services for both locks and ignition systems. Additionally, we excel in the installation and repair of car door locks and the implementation of advanced vehicle security systems.
In situations demanding immediate attention, we provide round-the-clock emergency car lockout services, extending our assistance 24/7. Our service areas include West Palm Beach, North Miami Beach, Homestead, Doral, Cutler Bay, Sunny Isles, and numerous other regions throughout Florida.
Also read: Locked Out Due to a Dead Car Key Battery? Trust Local Commercial Locksmiths to Solve the Problem!
Key Reprogramming and Replacement
In today's world of advanced automotive technology, with modern car keys, key reprogramming has become a critical service. With electronic keys and sophisticated vehicle security systems, locksmiths have adapted to this evolution by offering expert car key reprogramming. This process involves updating the electronic codes within your key to match your car's security system. When done correctly, it ensures that only your key can start and access your vehicle, enhancing security and preventing unauthorized access.
The need for replacement car keys can arise for various reasons. You may have lost your keys, they could be damaged, or you might simply require a spare set. Expert locksmiths excel in crafting new replacement car keys with precision. They take into account the specific requirements of your vehicle and its security features to ensure that the replacement key functions seamlessly. This level of precision is crucial to maintaining both the security and accessibility of your vehicle.
In addition to key reprogramming and replacement, locksmiths provide new key services that cater to your unique needs. Whether you want a fresh set of keys for convenience, improved security, or simply as backups, locksmiths can craft new keys themselves that precisely match your specifications.
Understanding Car Key Technologies
Keyless entry remotes and fobs have transformed the way we access our vehicles. These small devices offer unparalleled convenience by allowing us to lock, unlock, and start our cars remotely. Locksmiths are well-versed in programming and replacing key fobs for a wide range of vehicle models, ensuring that you can enjoy the benefits of keyless entry without any hassles.
Modern vehicles often feature transponder keys equipped with embedded chips. These chips play a pivotal role in enhancing security. When you insert the transponder key into the ignition, the chip communicates with the car's onboard computer, ensuring that the key is legitimate before allowing the engine to start. Locksmiths possess the expertise to work with these advanced keys, ensuring that they are programmed correctly and function seamlessly.
To create accurate replacement keys, locksmiths rely on your car's VIN number (Vehicle Identification Number). This unique identifier provides essential information about your vehicle, including its make, model, and specific key requirements. By using the VIN, locksmiths can craft keys that match your car, and make and model's specifications precisely.
Locksmiths are skilled in creating accurate duplicates of your original key. Whether you need duplicate or spare keys for family members or as backups, these duplicates are crafted with the same level of precision to ensure they work flawlessly.
Car Key Programming Process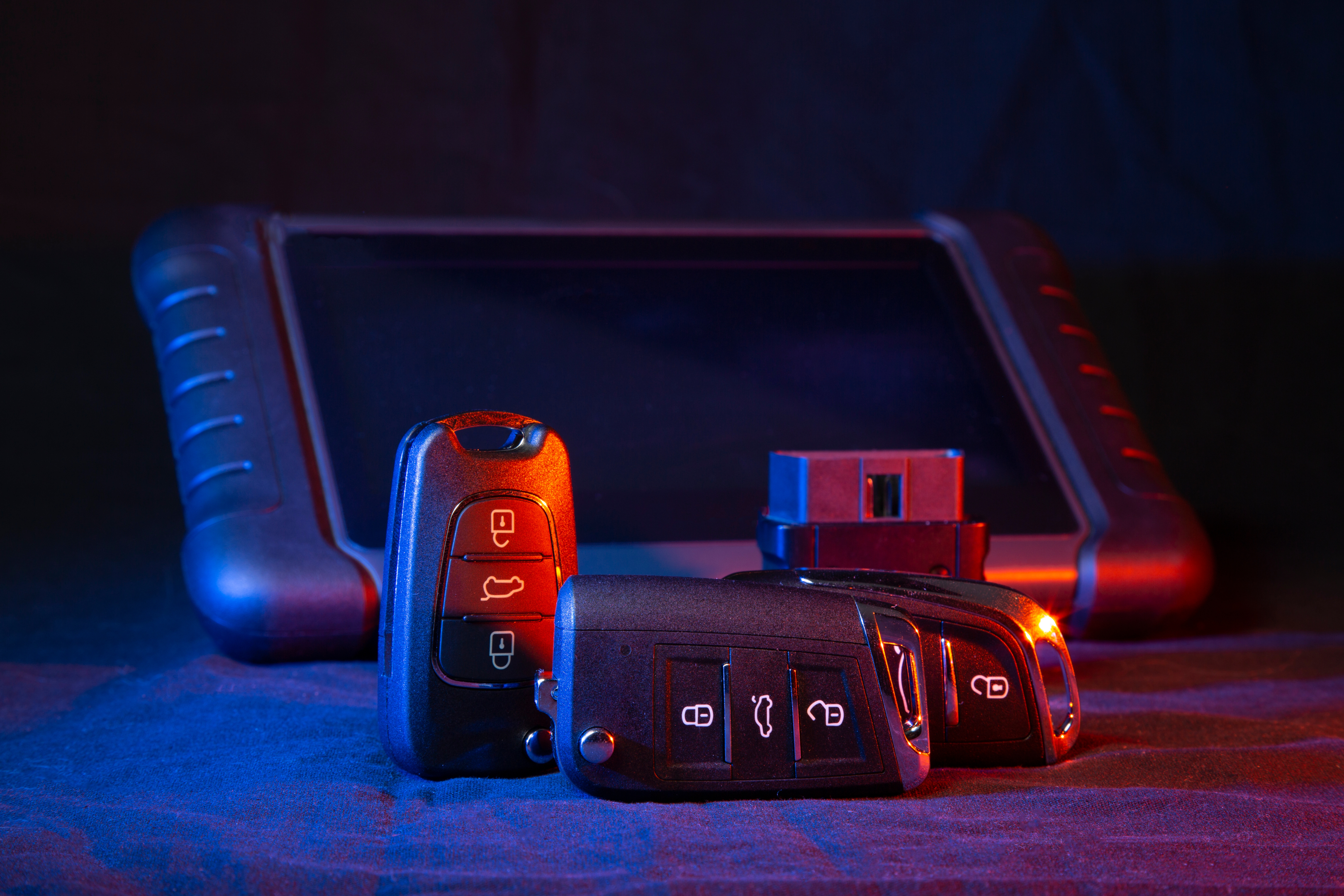 Car key programming is the intricate process of synchronizing keys with your vehicle's security system. This critical procedure ensures that the keys you use are recognized and accepted by your car's electronics. Here's a closer look at the key elements of this process:
Key Programming: At the heart of it all is the key programming itself. This involves aligning the unique code embedded in your key with your car's security system. When done correctly, it ensures that only your key can start and access your vehicle, reinforcing security.
Programming Modes: Different keys may require specialized configurations. For instance, transponder keys, electronic key fobs, and standard keys all have distinct programming requirements. Expert locksmiths understand these nuances and can configure keys accordingly, ensuring smooth operation.
Transponder Chip and Circuit Board: The transponder chip and circuit board within your key are the core components for programming. The chip communicates with your car's computer, transmitting the necessary code for authorization. The circuit board facilitates this communication, allowing your key to interact seamlessly with your car's security system.
Process and Method: Key programming is not a one-size-fits-all task. Locksmiths follow a precise, step-by-step procedure to ensure that your keys are programmed accurately and securely. This methodical approach guarantees that your keys are reliable and that your car's security remains uncompromised.
Also read: Get a New Car Key in Miami Today!
Situations Requiring Locksmith Services
Few situations are as frustrating as being locked out of your vehicle. It can happen to anyone, and it often occurs at the most inconvenient times. Fortunately, locksmiths specialize in regaining access to locked cars without causing damage. Their expertise and specialized tools enable them to swiftly unlock your vehicle and get you back on the road.
Wrong key: Providing the Right Solution to Avoid Damage
If you've mistakenly used the wrong key, whether due to confusion or a simple mix-up, locksmiths provide the right solutions to avoid potential damage to your vehicle. Attempting to fix yourself by forcing the wrong key can result in costly repairs, making it crucial to seek professional assistance.
Spare Key Creation: Preventing Access Loss in Emergencies
Having a spare key is not just a matter of convenience; it's a smart security measure. Locksmiths can create spare keys for your vehicle to ensure you're never locked out in emergencies. Having a spare vehicle key can save you time and money in the long run.
Key Replacement for Existing Keys
Whether your car door and keys have become worn out, you've lost them, or you simply need an additional set, locksmiths offer key replacement services that guarantee seamless access. These replacement keys are crafted with precision to match your vehicle's specifications.
Car Locksmith Expertise
When it comes to car locksmith expertise, professionals in this field exhibit a comprehensive understanding of various aspects crucial for ensuring access, security, and peace of mind for car owners.
Car Brands and Make/Model Expertise
Car locksmiths boast an extensive knowledge base that spans a wide range of vehicle brands and makes/models. Regardless of whether you drive a compact sedan, a robust SUV, a luxurious sports car, or anything in between, these experts are well-equipped to cater to your specific car key needs. Their proficiency extends to understanding the intricacies of different car security systems, ensuring that you receive tailored solutions that align with your vehicle's requirements.
Auto Locksmith Services
Locking yourself out of your vehicle can be a disconcerting experience. Car locksmiths specialize in providing auto locksmith services that address these automotive lockout situations with precision and speed. Their prompt response and efficient solutions ensure that you can swiftly regain access to your car without causing any damage. These professionals are equipped with the tools and expertise needed to handle various locking mechanisms, making them your go-to source for automotive lockout assistance.
Ignition and Door Lock Fixing
Issues with your vehicle's ignition or door locks can present significant inconveniences and security concerns. Car locksmiths possess the skills and knowledge required to diagnose and rectify these problems effectively. Whether your ignition is jammed, your door lock is malfunctioning, or you encounter any other locking system issue, these experts can provide the necessary fixes to restore both access and security. Their ability to navigate the intricacies of your car's locking systems ensures that your vehicle remains functional and secure.
Benefits and Cost Considerations
When it comes to locksmith services for your car keys, there are several crucial factors to consider that revolve around both your budget and the quality of service you receive.
Saving Time and Money: Professional locksmith services offer a clear advantage over attempting DIY solutions. While it might be tempting to try to resolve car key issues independently, such endeavors can lead to costly mistakes and significant time expenditure. In contrast, locksmiths provide efficient and precise solutions, ultimately saving you both time and money in the long run. The expertise they bring to the table ensures that the job is done right the first time, minimizing inconvenience and potential additional expenses.
Transparent Costs: Locksmiths understand the importance of transparency when it comes to costs. Before embarking on any work related to your car keys or locking systems, they take the time to provide you with detailed cost estimates. This transparency ensures that you have a clear understanding of the expenses involved, allowing you to make informed decisions regarding your car key needs. You can proceed with confidence, knowing precisely what to expect in terms of costs.
Access and Security: The primary goal of locksmith services is to strike a balance between ensuring smooth access to your vehicle and maintaining the highest level of security. This is a delicate equilibrium that locksmiths excel in maintaining. You can enjoy the convenience of hassle-free access without compromising your car's safety and security. Locksmiths prioritize both aspects, ensuring that you can confidently and securely access your vehicle, whether in an emergency or during your daily routine.
Business and Service Offerings
Locksmiths operate businesses that cater to the diverse needs of car owners. From crafting and programming replacement car keys to addressing lock issues, locksmiths provide a wide range of services designed to ensure your vehicle's accessibility and security.
One of the core services offered by locksmiths is their car key replacement services. Whether you need a spare key, a replacement for lost or damaged keys, or specialized key services, locksmiths have you covered.
With the increasing prevalence of keyless entry systems and remote-controlled car keys, locksmiths have expanded their services to include remote programming and replacement. They can help you enhance your vehicle's existing keyless entry capabilities or replace malfunctioning remote controls.
Also read: How Much Does it Cost to Get a Car Key Replacement in Miami?
Expert Automotive Locksmith Services in Florida
At 3 Guys Locksmith, we're attuned to the significance of locksmith services in your daily life. Our seasoned locksmiths are equipped to handle a broad spectrum of car key requirements, ranging from crafting replacement keys with meticulous precision to programming advanced transponder keys and keyless entry remotes in Florida. We take pride in our extensive knowledge of diverse car brands and models, ensuring that we deliver customized solutions tailored to your unique needs.
When you opt for 3 Guys Locksmith, you're not just availing locksmith services; you're securing peace of mind. Our rapid response, effective solutions, and transparent cost estimates are designed to save you both time and money. We prioritize your vehicle's security while guaranteeing effortless access, whether you find yourself locked out during an emergency or seeking mobile car key replacement services.
Don't let car key troubles disrupt your day. Reach out to 3 Guys Locksmith in Florida today and make us your trusted partner for all your automotive locksmith needs. Place your trust in us to maintain the security and accessibility of your vehicle, allowing you to drive with confidence.